Safe Roof Cleaning-FAQ          Before and 2 Years After Roof-A-Cide® Treatment
Safe roof cleaning FAQ
Q. Is Roof-A-Cide® an Eco-friendly product?
A. Yes. Since 1992, Roof-A-Cide® is the Only EPA Registered and Roofing Manufacturer Approved solution specifically formulated for roofs. An Eco-friendly product, that is Unconditionally Guaranteed for 2 full years to Prevent Stains, Mold, Mildew and Fungus. Eliminates frequent toxic chemical/high pressure cleaning methods. Contact us for EPA Registration#
Q. What type of roof can Roof-A-Cide® Treatment be applied to?
A. Roof-A-Cide® Treatment is approved roofing manufacturer safe for use on; Asphalt Shingle, Clay Tile, Concrete, Stone-coated Steel and Slate. Safe for People, Pets and Plants.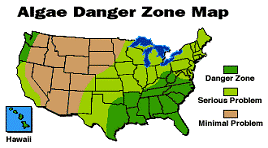 Q. How does Roof-A-Cide® Treatment protect my roof from ugly black stains?

A. Dirty roofs are cleaned one last time, gently cleaning surface of any mold stains present. • Clay / concrete tile, barrel / flat, or slate roofs are cleaned with surface cleaner and rinsed with water. See clay barrel tile application video – EBGtreat
• Asphalt Shingle or Stone-coated Steel roofs are cleaned, with Roof Restore® Cleaner and rinsed with water.
Roof-A-Cide® is sprayed on roof, chemically bonding to the roof, preventing mold, mildew and fungus stains. NO rinsing, the roof is now protected. See roof cleaning and treatment of Stone-coated steel video – Clean/ RAC Treatment
Tile cleaning with a surface cleaner and only water – Advanced Cleaning Solutions.
Q. Can Roof-A-Cide® Treatment be applied without walking on the roof?
A. Yes, after a final cleaning to remove algae, mold stains. Roof-A-Cide® Treatment is safely applied with a fine mist spray from ladders, bucket or boom work platform. New Community Service – Drone spray application by FAA certified pilot. No walk on – drone treatment.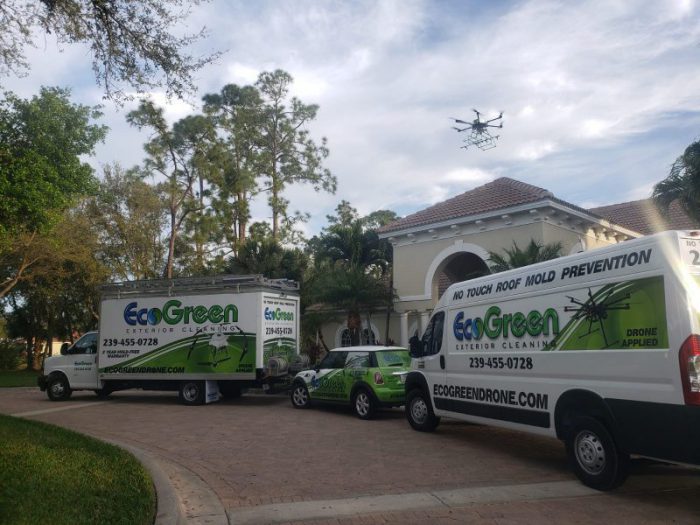 Q. Does the roof need to be cleaned before a Roof-A-Cide® Stain Treatment?
 A. A final cleaning may be recommended and needed for best results. In warm humid climates roofs quickly become infested by wind driven mold, bacteria and fungus spores which land on roof, grow and quickly form colonies producing ugly black stains.
• Roof-A-Cide® may be applied without cleaning to a roof installed within the last year. Initial application with a follow-up retreatment every 2 years. Never pressure clean the roof again.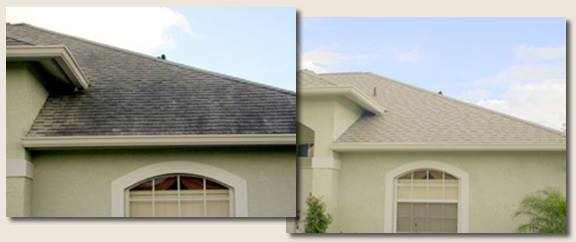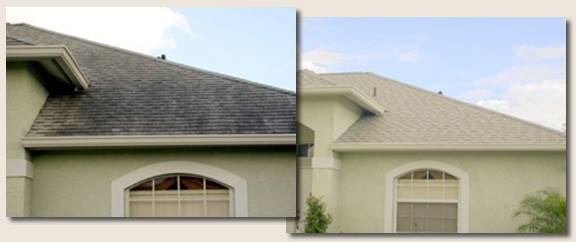 Q. Will a Roof-A-Cide® Treatment cancel my roofing manufacturer warranty?
 A. NO. Roof-A-Cide® Stain Treatment is approved for use by major US roofing manufacturers; GAF, TruSlate, PolyGlass, MonierLife, US Tile, Eagle, CertainTeed, Crown, Entegra, Boral, Gerard Roofing Stone-coated steel.
Q. My community had "algae resistant" shingle roofs installed, many of the roofs now have algae, mold, mildew and black stains. Can they be cleaned?
A. Yes. Asphalt shingle roofs can be safely cleaned and rinsed. When dry, apply Roof-A-Cide® to prevent future stain. Follow up with 2-year retreat and never clean the roof again. "The Treatment is The Cure".™
Q. Does Roof-A-Cide® Stain treatment contain toxic or corrosive chemicals?
 A. NO. Roof-A-Cide® does not contain toxic or corrosive chemicals.
Q. What is no pressure, no rinsing, soft wash chemical roof cleaning?
 A. No pressure, chemical soft wash roof cleaning, is a toxic chlorine and other chemical mixture, no rinse method. Also known as; Certified, Soft wash (chlorine/detergent ), SH sodium hypochlorite, Foam, No pressure roof cleaning. Runoff will kill plants and shrubs. 
Chemical cleaning contractors use toxic corrosive mixtures; DIY Fruit scented, citrus, fruit "sauce" cleaner mixes; Pool Chlorine, Ammonia, Sodium Hypochlorite or Sodium Hydroxide(Lye). The toxic chemical cleaner mixture is left on roof, not rinsed off.  
Expect immediate but temporary results. Not a safe, cost-effective long term solution. Unfortunately, harsh chemical roof cleaning contractors are virtually unregulated.     
Chlorine Bleach is Corrosive and should not be used for roof cleaning. Especially, when used in high strength (50 – 90%) concentrations throughout Florida. Chlorine Bleach should always be rinsed off to avoid damage to the roof.  Requires repeating the bleach / chemical cleaning process, in 6-12 months depending on where you live. 
NO written warranty. Not environmentally or plant friendly. All plants and shrubs must kept covered, wet during and after cleaning. Harsh Chemical "Soft Washing" methods will dry out the roof prematurely and shorten it's service life. Pest control service products applied are neutralized. Always ask contractor for product documentation / current SDS of any substances to be used.
 Q. What is a biocide roof cleaner?
  A. Biocide or foaming disinfectant cleaners are common and typically used in food processing/handling equipment and other industrial applications have found their way to your roof. OTC (Home and Hardware stores) cleaning products are sold as; green wash, bio cleaners, bio foams, bio blockers, quats, cationic surfactants, no rinse methods, and citrus odor cleaners.
QUATS – (Quaternary Ammonium Compounds). Ex: alkyl dimethyl benzyl ammonium chloride, ex: alkyl benzene ammonium chloride. Safer for your roof than Chlorine, but, not EPA Approved. Runoff kills plants and shrubs.
QUATS and surfactant cleaning products are sprayed on the roof, not rinsed off and will require 3-6 months and adequate rainfall to see results. Ex: alkyl benzene ammonium chloride. Follow up cleanings are an additional cost and a frequent disruption to your community. Cleaning with Quaternary Ammonium Compounds requires repeating the process in 3 – 6 months depending on where you live. This is NOT a cost-effective, long term solution.
FACT: Bleach and TSP (Tri sodium phosphate) will corrode metal (even in weak concentrations) and High-Strength Chlorine Bleach (Pool Chlorine 12.5%) widely used, will accelerate the damage – especially when the roof is not rinsed.
FACT: No Roofing Manufacturer in the US recommends the High-Strength Chlorine Bleach solutions that are applied and left on roof all over Florida and increasingly throughout the US.