Professional Roof Cleaning and Roof Stain Prevention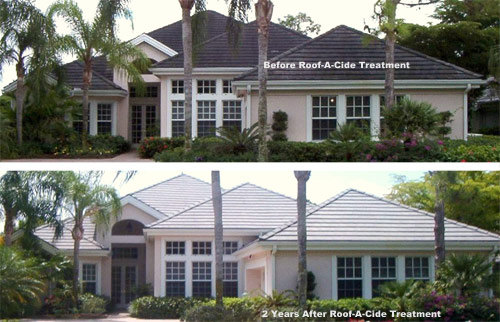 Residential and Commercial Roof Treatment System
Non-toxic and Environmentally Safe for people, pets, and plants.

Tested and Approved by Every Major roofing manufacturer to prevent ugly roof stains.

Roof-A-Cide® Treatment restores original roof color

on

Clay Tile, Concrete Tile, Asphalt Shingle, Stone-coated Steel and Slate.

A light spray every few years will keep your roof stain free and eliminate the need for future roof cleaning.
Roof-A-Cide® Treatment – Featured on Designing Spaces TV, Episode 1/20/20 – Home improvement
R

oof-A-Cide –

Safe, More Effective, Proven and Guaranteed!
Roof-A-Cide is BETTER than repeated cleaning and the most cost-effective solution available.

Since Roof-A-Cide is non-toxic and contains no harsh chemicals, it will not damage the landscaping, the roof surface or underlying roof membrane.

Eliminates harsh annual cleaning with toxic, corrosive

high strength chlorine,

chemical soft wash and high pressure methods

.

Trusted for over 30 years proudly serving Homeowners, HOA Condo Communities and Commercial properties.
More than

1 Million roofs safely cleaned, treated and protected.

Unconditionally Guaranteed to remain free of stain, year after year!
U.S. Patented and EPA approved. Proudly made in Florida.
Naples  North Naples  Bonita Springs  Ft. Myers  Cape Coral  Northport  Sarasota  Bradenton  Lakewood Ranch  Tampa Bay  Gainesville  Tallahassee
New Applicator Opportunity Information NWFL 
Northwest Florida Roofing Contractors please contact us today get the information you need to become an Authorized Roof-A-Cide® Applicator. We offer our legacy EPA approved 2 year treatment solution guaranteed to keep roofs stain free and eliminate future roof cleaning. Give us a call or visit at the 2024 FRSA Trade Expo booth 1119, Gaylord Palms Resort, Orlando, FL June 5 – 7, 2024.
---
 Roof-A-Cide®  Application SWFL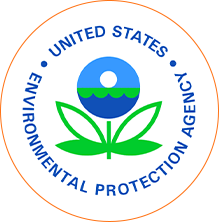 State-of-the-art, Roof-A-Cide® Drone Treatment application for SWFL residential, community and commercial properties. Authorized applicators FAA certified UAV Pilots supported by ground crew, guide sprayer drone application of Roof-A-Cide® Treatment to keep the roof stain free. Drone treatment application requires no technicians walking on roof. 
Unconditionally Guaranteed Roof Stain Prevention. Enjoy a beautiful stain free roof that will look great for years. Manufacturer's written warranty is transferrable upon sale to new owner.
"The Treatment is the Cure"™
Everything else is just a cleaner…..